Thiru Thanjai MaamaNik Kovil
Group of three temples are considered to be one Divya Desam here. They are,
1. Thanjai Maamani Kovil
Neelamegap PerumaL sitting posture facing east. Sengamalavalli Thayar both prathyaksham to Parasaramuni.
2. ManikkunRam
Manikundra Perumal in sitting posture facing east. Ambujavalli Thayar, prathyaksham to Markandeyar.
3. ThanjayaLi Nagar
Lord Nrisimha in sitting posture facing East with Thayar Thanjai Nayagi. Both were prathyaksham to Markandeyar.

In all the three temple, Uthsavar is Sriman Narayanan.

These three temples are together considered as one Divyadesam. These temples are seperated by 200 meters from each other. The Lord presented Himself in the form of Nrisimha to Dhatchagan (Thanjagan in Tamizh). Hence the name Thanjai. The Lord in Thanjai Mamani Kovil faces Thanjavur and called Thanjai Kaththalum Deivam (God who protects Thanjavur). At this place, Sri Nayinachariar (Son of Swami Desikan) established that Desika Prabandham is to be recited in all Divvyadesams during Anathanyana period (Periods when Divya Prabandham is not recited).

This place is situated in green and fertile landscape in the banks of Vennar River about 4 Kilometers from heart of Thanjavur in Thanjavur-Kumbakonam highway.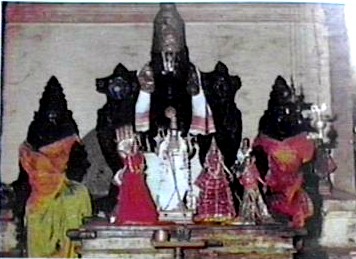 Click here to see recent photos depicting the current condition of the temple(s).
Three Azhvars namely Thirumangai Azhvar,bUthaththaazhvar and nammazhvar have done mangaLaasasanam for this divya desam. Thirumangai azhvar sang three verses in his Peria thirumozhi, bUthaththaazhvar sang one verse in his iraNdaam thiruvandhadhi and nammazhvar sang one verse in his Thiruvaymozhi.Text version of the pasurams are given below. You may visit the prabandham page for viewing these verses in tamil.

Thirumangai aazhvar's peria thirumozhi:
953:##
embiraan enNdhai ennudaicchuRRam* enakkarasu ennudaivaaNaaL*
ambinaal arakkar verukkoLanNerukki* avaruyirseguttha em_aNNal*
vambulaamsOlaimaamadhiL* thaNYchai maamaNik kOyilE vaNanggi*
nNambigaaL! uyyanNaan kaNdu koNdEn* nNaaraayaNaa ennum nNaamam. (2) 1.1.6

1090:
udamburuvil moonRoRaay moortthi vERaay* ulaguyya nNinRaanai*
anRu pEycchi idamparugu vitthaganaik* kanRumEytthu viLaiyaada vallaanai varaimeegaanil*
thadamparugu karumugilaith thaNYchaikkOyil* thavanNeRikku Or perunNeRiyai vaiyamkaakkum*
kadumbarimEl kaRkiyai nNaaNnkaNdukoNdEn* kadipozhilsoozh kadalmallaith thalasayanatthE. 2.5.3

1576:
eNn cheykENn adiYENn? uraiyIr idhaRku eNnRum *
en maNnaththE irukkum pugazh *
thanchai yaaLiyaip poNn peyarONn*
nencham aNnRu idanNthavaNnaith thazhalEpurai*
min cheyvaaLarakkaNn nNagar paazhpada*
choozhkadal ciRaivaiththu imaiyOr thozhum*
poNncheymaal varaiyai maNikkuNnRiNnai aNnRi*
eNn maNnam pORRi yeNnNnaadhE*. 7.3.9

bUthaththaazhvar's iraNdaam thiruvandhadhi:
2251:
thamaruLLam thancai* thalaiyarangam thaNkaal,*
thamaruLLum thaNporuppu vElai,* - thamaruLLum-
maamallai kOval* mathitkudanthai enbarE,*
Evalla enthaik kidam. 70
Nammaazhvaar' Thiruvaaymozhi:
3255:##
maasaRu sOthi* en seyyavaay maNikkunRaththai*
aasaRu seelanai* aadhi moorththiyai naadiyE*
paasaRa veydhi* aRivizhanNthu enai nNaaLaiyam?*
EsaRu mooravar kavvai* thOzhee! en_seyyumE?*. (2) 5.3.1
sthala purANam:

Mention of this sthalam is made in brahmANda purANam.
In krEthAyuga, in the lineage of a king known as madhu, three asurAs were born as brothers.
They were thanjakan, thanDakan and gajamukhan. The three of them performed severe penance
towards sivA. sivA appeared in front of them and asked for their desire. They replied that they wanted immortality.
sivA answered that only vishNu has the power to give that boon;
however he (sivA) will grant that the death for the three brothers will not be through him (sivA)
After recieving that boon from sivA, the three brothers, with a lot of arrogance, started to dominate
all the worlds including indralOka and created havoc. They disturbed all the rishis that
were performing penances and caused untold harm to them. At this time there was a rishi called
parAsura who was performing worship/penance to vishNu. There was drought in the land at that
time and there was no water anywhere except for a small pond near where sage parAsara was
performing penance/worship. The threeborthers, after they had searched a long time for water,
came to the place where sage parAsara was, and drank water from the pond.
On seeing the sage performing penance, they started disturbing him and started causing harm to him.
the sage called out "Hari Hari Hari" to seek the Lord's help in removing theobstacles presented
by the three brothers. Lord vishNu sent garuda to help the sage. garudA destroyed all of the asurAs that
were part of the three brothers' army. However, he could not kill the three brothers.
On seeing this, perumAL Himself came in person and with his discus,cut the head off the first brother - thanjakan. Realising his mistake, thanjakan regretted his deeds and asked perumAL that the
place where he died be named after him. So, the place became to be known as thanjakanUr -
that became thanjakUr and currently thanjAvUr. This perumAL is nIlamEgap perumAL
(thanjai mAmaNik kOvil)
On seeing the death of his brother, the next asurA, gajamukhA came in the form of an elephant
and started to attempt to fight perumAL. He took the form of narasimha and killed gajamukhA. Just
before he died, gajamukhA realised his mistakes and surrendered toperumAL and asked for
mOksha. Since he surrendered, perumAL granted him that wish. This perumAL is called thanjaiyALi.
On seeing his two brothers die, the third brother, thandakAsuran,went deep into bAthALam to hide.
perumAL took the form of varAha,chased the asura into bAthALam and killed him. the asurA, realising
his misdeeds just before his death, surrendered to perumAL and requested that the place be
known after him. perumAL granted that wish and the land directly above where the asura was
killed became to be known as dhandakAraNyam. perumAL came up into the earth directly
above where He killed thandakAsura. that place is called thirumuttam - srImushNam, where to this day, perumAL graces all devotees with His kindness in the form of varAha as bhUvarAhap perumAL.
There are three temples in this divya dEsam currently. Even thoughthere are three perumALs,
AzhvArs, while performing maNgaLAsAsanams have taken all three perumALs to be one perumAL.
key points about the divya dEsam:
1. after perumAL came to this place, it is said that kubEra asked
viswakarma, the architect for the dEvAs, to build a city here.
viswakarma built a city in the form of a garudA that is flying. It
is said that in this city, since it is in the shape of a flying
garudA, garudA protects everyone.
2. It is also considered by learned people that the three perumALs,
srI nIlamEgan, srI maNikkunRan and srI vIrasinghap perumAl are with
srIdEvi, bhUdEvi and nILadEvi in this divya dEsam.
3. the river here is supposed to be the same as virajA nadhi that
flows in paramapadam. In tamizh, that river is called veNNARu -
a derivative of viN+aaRu.
4. At one time, the three temples were in different locations around
thanjAvUr. (nIlamEgap perumAL near maNimuththAru, maNikkunRap perumAL
in the part known as kaLimEdu, narasinghap perumAL near a pond
called singap perumAL kuLam). During the rule of the nAyakkars, all
the three perumALs were moved to their current location.
5. Since all the three perumALs are facing thanjAvUr, the perumAL is
called as thanjai mAmaNi - the treasure on thanjai that is protecting
it.
Our special thanks to Sri.Varadhan for providing the write up on Sthala purANam.
---
Please visit the divya desams often and support them. Azhvar's travelled far and wide on foot and did mangaLaasasanam to the perumals in various divya desams. Now with the comfort of transport facilities it is lot easier to visit the temples where ever they are. I would even suggest to visit the divya desams that are in need of sevarthis and support, rather than visiting the same, popular divya desams time and again.